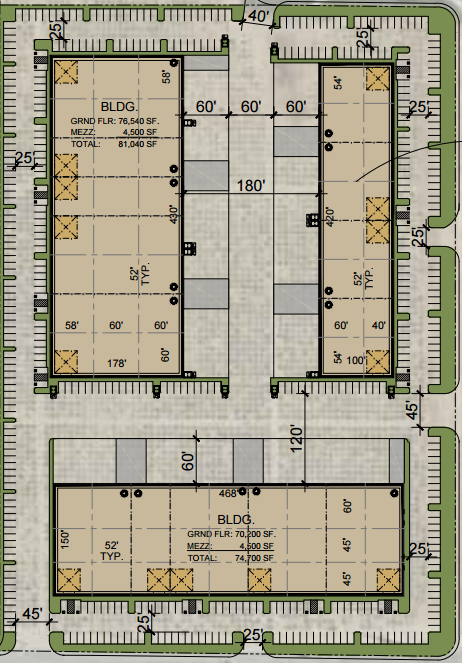 More and more, typical industrial development in the Inland Empire will look like this. Instead of one large warehouse with lots of truck doors, cities will require smaller buildings so not to conflict with nearby residential communities. This planning protocol significantly increases the costs for the developer but it creates opportunities for Occupiers who wouldn't ordinarily find a building in smaller sizes to purchase.

Because of space shortages in Los Angeles, a location like this, on the extreme western side of the Inland Empire – 40 miles from downtown Los Angeles and 60 miles from the Los Angeles Ports – has become an infill location. In addition, unlike many other developments on the drawing board, this project has all the infrastructure in place and can be occupied in 14 months or less.
Sizes are deceptive. These buildings will be 80,000 SF, 75,000 SF and 22,000 SF. For many Occupiers in older buildings, moving to a new building with 32' to 36' ceilings will increase your warehouse by 25% to 50% for a very marginal additional cost. In other words, the same footprint will likely handle your need for more space.
Development costs for a building like this will run $100 per square foot. Current lease rates yield about a 5% return on project costs. Occupiers who get in at an early stage of development will buy closest to cost. By the time the property goes through development and holding periods, the developer will seek a higher price for taking added speculative risk. In contrast, if you can find a building like this in Los Angeles it will cost $150 to $170 per foot and ceiling heights will not typically be as high.
Not enough buildings are being built for Occupiers to purchase. Everything is being snapped up by institutional investors for long term investment. While space is scarce, it's made even more so because of intense competition from the capital markets. Getting in at the "ground floor" is where the deals are.