The Cluster Mapping Project (CMP) was pioneered by Michael E Porter of Harvard University. He is just as well known for his works on Competitive Advantage. His work is a necessary foundation for US Industry and business organizations. I reprint his Value Chain diagram below for company diagnostics, which has been repurposed to examine the competitiveness of regions. To understand the implications of location and clustering, you can read an article Professor Porter published in 1995 about the strategic location of inner cities which is just as relevant today.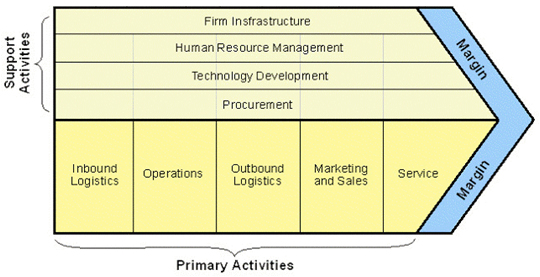 CMP moves the competitive business insights into a geographical framework. The primary mission is to make regions more competitive by harnessing their own primary activities and resources. Just as in the example of Inner Cities, the CMP has uncovered many industry clusters on a national basis that is intended to help regions understand themselves, but can also guide industrial real estate users and developers into areas of specific strength and concentration.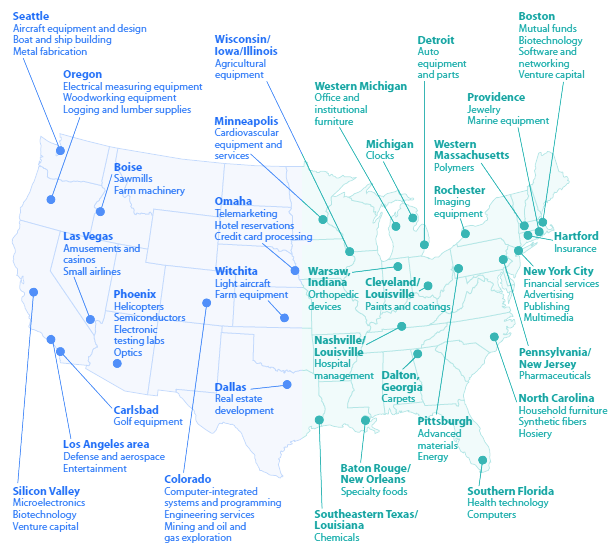 It's well worth looking at the CMP site and spending the time to understand the background concepts. Be sure to read all the appendices because they demonstrate the different industry categories. The CMP can lead to a very good understanding of U.S. industry that is specific and data intensive, both which will help make investing decisions.
Because the CMP has so much data available and flexibility in query and reporting, it can used for other purposes. For instance, the CMP can be used to locate deals, not in the specific sense of finding property, but to steer your effort and energy. If the focus is on big industrial and land, the CMP shows in darker shades of blue where the most number of establishments for Distribution and Electronic Commerce occur.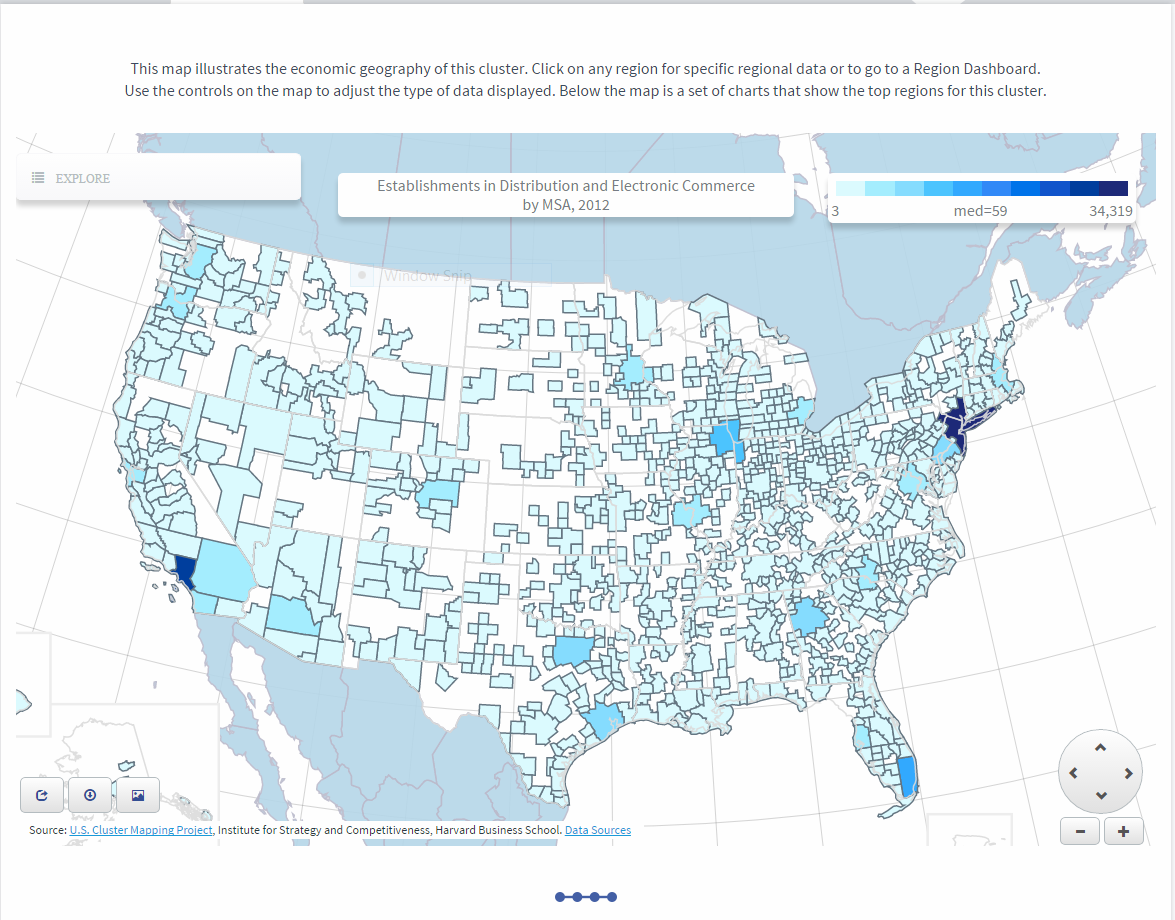 The top 15 regions with the most enterprises for distribution and ecommerce are:
| | |
| --- | --- |
| Region Name | Establishments 2012 |
| New York-Newark-Jersey City, NY-NJ-PA | 34,319 |
| Los Angeles-Long Beach-Anaheim, CA | 28,269 |
| Miami-Fort Lauderdale-West Palm Beach, FL | 14,202 |
| Chicago-Naperville-Elgin, IL-IN-WI | 13,676 |
| Dallas-Fort Worth-Arlington, TX | 8,534 |
| Houston-The Woodlands-Sugar Land, TX | 8,363 |
| Atlanta-Sandy Springs-Roswell, GA | 8,221 |
| Philadelphia-Camden-Wilmington, PA-NJ-DE-MD | 7,279 |
| San Francisco-Oakland-Hayward, CA | 6,103 |
| Boston-Cambridge-Newton, MA-NH | 5,631 |
| Minneapolis-St. Paul-Bloomington, MN-WI | 5,276 |
| Seattle-Tacoma-Bellevue, WA | 5,069 |
| Detroit-Warren-Dearborn, MI | 4,947 |
| Phoenix-Mesa-Scottsdale, AZ | 4,528 |
One can also query the industry data by comparing regions for the highest growth rates in establishments for the same category of Distribution and Ecommerce. By looking at the data in this additional way, you can also add, Riverside-San Bernardino and Las Vegas-Henderson-Paradise. From personal knowledge and not from the CMP, I would add the Columbus- Cincinnati-Northern Kentucky corridor and Memphis. Distinction also should be made between regional distribution centers, local distribution and the new breed of ecommerce. Some companies will only need to be in the regional centers with limited locations. Other companies need to be in every metropolitan area but with a smaller footprint.
The CMP breaks down clusters into sub-cluster groups by NAICS numbers. These NAICS numbers are helpful in identifying specific companies by searching industry databases by employee size and NAICS. It turns out that in the general cluster of Distribution and Ecommerce there are both growing and contracting business types. The chart below shows that several sub clusters – warehousing and storage, wholesale trade, electronic shopping, and pharmaceutical distribution – are among the most robust segments. Not only will the CMP point to regions that are growing particular industries, but it also shows which particular segments of an industry has the most growth potential. With the corresponding tools of parcel data and industry classifications, the CMP can guide both the selection of real estate and the tenants who occupy the space.