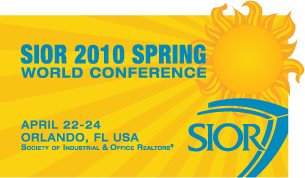 We finished our semi-annual meeting in Orlando, Florida. The general sentiment is we have reached the bottom of the cycle. Although by what measurement? Recent sales and leases have indicated a low point. However, when other leases expire, those buildings will still need to discover their own downward level. Visually, think of dominoes falling down over a lengthy period of time. The current signals are more a psychological target rather than one of momentum. Monitoring rent tends will validate when we are at the beginning of a new upward trajectory.

As industrial developers begin to make plans, many still have an outspoken preference for the Los Angeles port complex. If any developers decide to buy land it will because of increased shipping volume. Many will be examining the recently improving trade figures to see if they are of lasting improvement or a result of temporary stimulus and inventory restocking. This difference alone is the most important part of an improving warehouse picture. Land values will need to reflect market rents and this means we are at 50% of the peak – mid to low teens in per foot prices.
One very negative part of the conference is the number of EDC people who have been targeting California companies to move to their state or region. While California has always been a large target for relocations, the current problems of California finance, high costs, and poor services have "Right to Work" states absolutely gloating. California business will not wait while the state searches for a solution. Replacing good manufacturing jobs with logistic companies may be good for real estate companies, but it's not the road to rebuilding a damaged California economy and improving the lives of its citizens.
The investment experts emphasized that Lenders will only loan on existing cash flow. In a building that is only partially leased, the vacant space will be underwritten at zero. This leads to a hard ceiling for prices. In contrast, during good markets, lenders anticipate that appreciation will hide any mistakes. In bad times, it's strictly cash flow, credit, and market rates. For many Sellers, this will be a hard pill to swallow.
There was also confirmation that "A" product with good leases are finding many competitive institutional buyers in the 8 cap range. It's not really an acknowledgement that the market is improving but more a case of portfolio allocation. Nevertheless, it's a source of transactions and gives owners who own quality property a path to real estate sales. The caution is that the vast majority of industrial property is non-institutional and these properties will continue to be the fodder for opportunistic buyers.
The biggest surprise is that distressed assets have not made a bigger debut. Many buyers and brokers had hoped to see a flood of problem properties. And many are wondering why there are not more foreclosed properties on the market. Some answers include government stimulus money, low interest rates, pretend and extend, regulatory forbearance, and the lack of a RTC Clearinghouse. Others also stated that the great hope of purchasing discounted notes have only amounted to a trickle because gaining fee ownership has not been as easy as expected.
Overall, we are in much better shape than last Spring. Clients are beginning to articulate strategies to move forward. Activity levels are up. Cautious optimism has replaced the doom scenarios. However, profit spreads will need to be large enough to insure against any further possible declines. The conference again proved why SIOR is my most important resource for industrial and office real estate. It's the only place I know where I can find honest, personal and intelligent industry guidance on a useful, deal-making level.